Accommodation a walk from The Square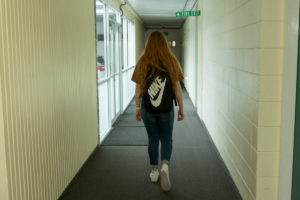 The hostel is joined to the original homestead which faces Fitzherbert Avenue. The 33 rooms, lounge, laundry, bathrooms and dining facilities are all accessible from the main corridor which runs through the centre of the hostel.
Residents' Parking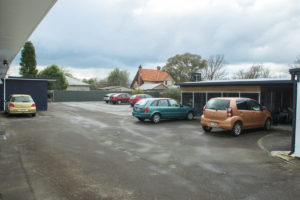 Vehicles access the hostel from Fitzherbert Ave, the drive runs down the side of the complex where there is limited residents' parking at the rear.
Student Lounges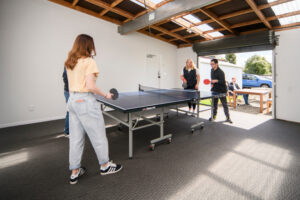 Right in the centre of the hostel is large lounge where students can watch TV or a DVD or play board/card games. A second lounge of similar size is located at the back of the Hostel and students can just hang out play pool, table tennis or darts. A separate pool room is located by the dining hall.
Great Food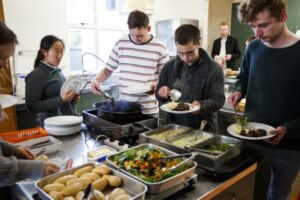 A modern kitchen is located at the west end of the hostel where students meet for meals. The meals are delicious. Students always comment on the high quality of the meals at the BSH!
Single Rooms
Each room is individually heated, contains a single bed, desk and a wardrobe and has access to unlimited fast Internet. Bedding and towels are supplied.
This will be your home for the year! Some people like to put their own personal touch to the room with posters, wall hangings, duvets etc.
Feel free to make yourself at home.
---
Hostel Self-Catering Flat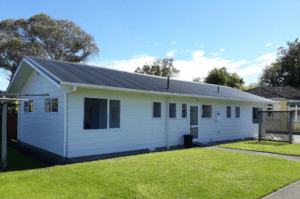 The flat has been established to cater for students who have special dietary requirements that we cannot cater for in the hostel, such as lactose intolerance, gluten free or vegetarian requirements.
The flat is a four bedroom unit with two bathrooms and a kitchen, and dining/ lounge. It is fully furnished. Including table and chairs, couch, TV, kitchen utensils, fridge, and washing machine, plus bedroom furniture comprising a bed, dresser, desk and chair.
Students living in the self catering flat are part of the hostel and enjoy all the facilities, the only difference being they individually cater for their own food requirements.
---
Hostel Flats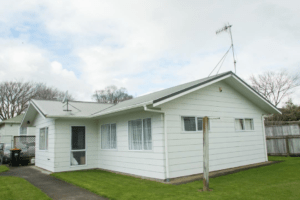 The hostel has two flats available each year for students to rent on a 12 month contract. Tenancy starts in the first week of November. The flats are normally made available to second and third year students. Please enquire about availability and rates.
Flat 8A is a five bed-roomed villa with separate lounge, dining and kitchen, one bathroom and laundry, each with a toilet.
Flat 8B is a unit with 4 bedrooms, two bathrooms, with open plan kitchen, dining and lounge.
Located at the back of the hostel, the flats share off-road parking accessed from Union Street.
For more details, contact the Hostel Managers (06) 355 5107